President
Charles Brown, 5th year Ph.D. student in Physics
Charles does research in Atomic, Molecular and Optical Physics. His interests lie in the quantum mechanical aspects of light, micro-scale oscillators and the interplay of the two. The interaction of light and mechanical oscillations inside of optical resonators (optomechanics) gives way to interesting nonlinear phenomena that provide an avenue through which quantum behavior of the motion of mechanical oscillators can be observed and studied. Using optomechanical systems, he explores quantum behavior on unprecedentedly macroscopic scales, aiming to uncover physics beyond our current understanding pertaining to the physical mechanisms which destroy quantum behavior in large systems.
When he's not making quantum optical devices, Charles enjoys weightlifting and wrestling.
Charles loves science because it gives him the creative and intellectual freedom to solve countless different problems – from the most basic of problems, to the most mysterious problems of our universe.
Vice President
This position is currently unfilled!
Secretary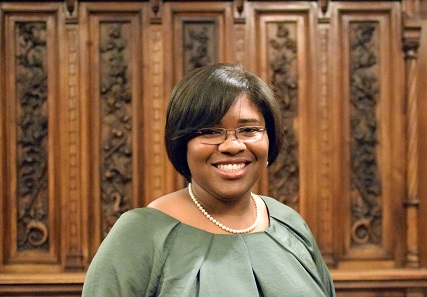 Lyndsey McMillon-Brown, 5th Year Ph.D. Candidate in Chemical Engineering
Lyndsey studies Chemical Engineering and works in the Transformative Materials and Devices Laboratory. Specifically, Lyndsey carries out research on advanced, nano-patterned, novel materials for light trapping and enhanced efficiency in solar cells.
When Lyndsey isn't fabricating solar cells, she loves to ski and play golf.
Lyndsey loves science because she loves to discover new things.  Lyndsey believes that even if you discover that something doesn't work - you've made a meaningful contribution to the body of available knowledge.
Treasurer
This position is currently unfilled!
Outreach Coordinator
This position is currently unfilled!
Activities Director
Anthony C. Scruse, 4th year Ph.D. student in Chemistry.
Anthony's area of interest is in organic chemistry. Specifically, Anthony conducts research on the development of useful chemical reactions catalyzed by transition metals. 
When Anthony isn't reacting chemicals, he loves to listen to classical music. He even used to play trumpet in a symphony orchestra.
Anthony loves science because it provides him with the opportunity to develop interesting questions and immediately begin working to find the answers.